About Us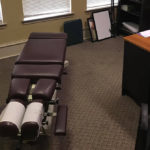 Irving Injury Center is a top quality Chiropractor Irving, TX conveniently located in central Irving, TX off of N Story Rd south of 183. Our Clinic Director Dr. Thomas Dixon DC has over 30 years experience treating patients of all types, particulary patients that have suffered injuries as a result of an accident. We focus on chiropractic care and physical rehabilitation for car accident injuries, Federal Workers Compensation, Texas Workers Compensation, work injuries, whiplash, sports injuries, neck pain, back pain, pre and post surgical therapy and more. We offer free consultations, free transportation, an independent Medical Doctor (MD), a Spanish speaking staff, referrals to medical specialists when necessary, free claims assistance, treatment under Letter of Protection (LOP), and attorney recommendations. 
Client Testimonials
The whole office is very friendly and helpful. Irving injury center is absolutely outstanding. Thank you very much for your great, attentive service
Jennifer Ebron
Neck Pain Treatment
All of the staff was fantastic! The care I received was impeccable. Great place!
Christopher Strock
Back Pain Treatment
Everyone I worked with was wonderful, very professional, caring and prompt. My chiropractor was great!
John White
Work Injury Treatment
I had a really positive experience and my shoulder is totally functional again, without pain! I really enjoyed my chiropractor and all of the rest of the staff.
Kimberly Rogers
Sport Injury Treatment